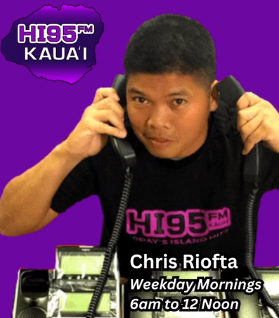 Born and raised on Kauai, Chris Riofta got his start working in radio more than a couple of decades ago. He's a "local boy" hailing from the town of Hanama'ulu, but now resides in Lihue.
Chris enjoys listening to all genres of music, but is even more excited to play the comforting sounds of "Local Music" on HI95. He wants to share and feature more Hawaiian, island and reggae music from local Homegrown artists on the radio dials and all around the world with HI95's online stream.
Chris has also worked a few years in the education, customer service, and tourism industries. He grew up running around hotels as other family members worked in couple of island resorts. "I remember exploring the Coco Palms as a kid as my grandmother and mother both worked there." He also once managed a discount movie theatre on the Ninth Island of Las Vegas and often goes there where he has a lot of family.
In his spare time, Chris loves to travel. He has roadtripped all over the mainland US, Canada, & Mexico…. and has visited 43 other countries around the world. He's also made appeared on radio and television stations in Germany, Poland, Romania, and Ukraine.